As a popular vacation destination with beautiful beaches and sunny weather, there are many drivers in Orange County who are unfamiliar with the area. Unfortunately, this combination of factors can lead to an increased number of car accidents and fatalities. According to the Centers for Disease Control, car accidents are among the leading causes of death and injury for people aged 1 to 44. Especially in Orange County, where there are few options for public transportation.
If you or a loved one were recently involved in a car accident, you need the help of an Orange County car accident lawyer. Dealing with insurance companies, filing a claim, and more can cause headaches while you're trying to recover. Contact an Orange County car accident attorney at the Law Offices of DiMarco | Araujo | and Montevideo for help today.
---
---
What Can An Orange County Car Accident Attorney Do For Me?
If you've been involved in a car accident, you are probably feeling overwhelmed by insurance claims, medical bills, and unanswered questions. Being involved in an auto accident leads you to experience many emotions at once: anger at the responsible parties, anxiety about recovery, and pain from the injuries you've sustained. These are powerful feelings, and you shouldn't have to bear them alone. An experienced law firm can help accident victims deal with the stresses involved in filing a lawsuit.
An Orange County auto accident attorney can help you through every step of the process, including:
1) Speak with the Other Driver's Insurer
Arguing with an insurance company can be an exercise in futility if you lack the experience. Fortunately, the car accident lawyers at our law firm have 35 years of experience dealing with insurance companies. The claims adjuster is the one who carries the purse strings, and we know how to communicate with them to get the settlement that you deserve.
2) Gather Evidence of Liability
Personal injury claims rely on the establishment of negligence. To prove that the other party committed negligence, we need to find them responsible for the accident. We open our own investigation of the case, talking to witnesses, taking pictures, and poring over police reports. We gather all the necessary evidence to build a strong case for your car accident claim.
3) Put Together a Picture of Damages
Using the evidence we gather from the scene, we put together a scenario that outlines the amount of damages you sustained in the accident. Another important aspect of this is accessing your medical records and putting a tag on your pain and suffering.
Doctor's offices often don't attribute your injuries to a specific cause; they just outline it and treat it as necessary. An Orange County car crash lawyer can request a special note from your doctor establishing that your injuries were a direct result of the accident. This is an essential step in winning your personal injury case.
4) Enter Negotiations
Negotiation is a finely honed art, one that our law firm has been practicing for decades. Leave it to us to speak with the insurance adjusters, doctors, guilty parties, and lien holders. We'll only settle for a claim that's fair and one that accounts for all of your physical and emotional symptoms.
---
How Much Does an Auto Accident Lawyer Cost?
While some law firms charge you a retainer fee, plus a bill of however many hours they worked on your case — we do not. Our law offices work on a contingency fee basis. In other words, you pay nothing if we do not win your case. A contingency fee system allows our clients to feel confident in our services. With nothing to lose (except your time), there is no risk in hiring our legal representation.
---
What Types of Compensation Can Be Recovered?
No two car accidents are the same. Not only can car crashes cause serious injuries and property damage in the short-term, but they can also cause a lifetime of pain and suffering. Whether the driver or passenger were injured, the car was totaled, or the victim has to miss work (and therefore lost wages) during recovery, car accident damages can come in many forms. Some of the damages that can be recovered following a crash include:
Medical expenses (past, present, or future)
Lost wages and earning potential
Mental anguish that comes with recovering from a severe injury
Property damage (your vehicle and any other property damaged)
Pain and suffering
---
Common Motor Vehicle Accident Injuries
While many car accidents produce only minor injuries, some can cause catastrophic (and even fatal) injuries. Some of the most common injuries in Orange County auto accidents include:
Amputations
Broken bones
Lacerations
Puncture wounds
Spinal cord injuries
Traumatic brain injuries
Whiplash injuries
Wrongful death
Even with the absolute best medical care, these injuries can be excruciating and cause an unimaginable amount of stress. And in the event of a wrongful death, we know the pain associated with the loss of a loved one. With the legal advice of DiMarco | Araujo | Montevideo, we can fight for justice and work to earn maximum compensation while you or a loved one recover.
---
Car Accident Fatalities in Orange County (2007-2015)
2007 – 193
2008 – 162
2009 – 155
2010 – 105
2011 – 140
2012 – 153
2013 – 186
2014 – 173
2015 – 162
And this is just in Orange County. According to the California Office of Traffic Safety 2016 Annual Report, car accident deaths increased by 2.4% in 2015 to claim the lives of 3,176 people. This number increased again in 2016: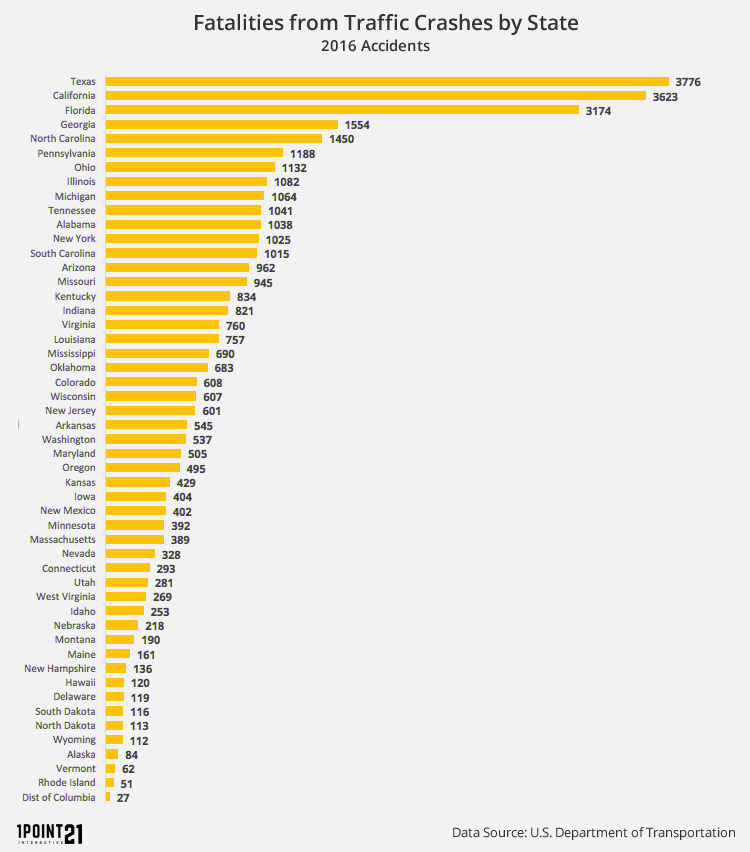 ---
Common Causes of Auto Accidents
Motor vehicle collisions can happen for a number of reasons. And quite a few of these reasons are not directly attributed to human error. Here are some common causes of car crashes in California and throughout the United States:
Speeding and reckless driving
Unsafe lane changes
Inexperienced drivers
Drunk drivers
Distracted driving
Treacherous weather
Car mechanical failure or vehicle defects
Tire blowouts
Running red lights or stop signs
Poor visibility
Road hazards
---
What To Do After a Motor Vehicle Accident in Orange County
STOP IMMEDIATELY.
If possible and safe to do so, move vehicles and persons involved to the side of the road, out of traffic's way.
Help injured persons.
Notify police and medical personnel.
Obtain names, addresses and phone numbers of other drivers, passengers and witnesses involved.
Write down makes, models and license numbers of all vehicles involved.
Draw diagram of the accident scene, indicating the direction of involved vehicles and/or persons, and any important information.
Take pictures of the accident scene, damages to vehicles and injuries.
Use our helpful accident report guide to document all of the necessary information.
Do not accept fault or settlement at the scene.
Keep calm and remain courteous.
Notify your insurance company.
---
Choosing a Car Accident Legal Team
When you've been injured in a car accident in Orange County, you need the help and expertise of an experienced law firm. At the Law Offices of DiMarco | Araujo | and Montevideo, our car accident attorneys in Orange County know all the tricks that insurance companies and opposing counsel will try to use in order to give you less than what you deserve. From negotiations and communication to securing you the best offer, we will handle your auto accident case with accuracy and aggression.
Most of our cases are settled out of court, but we're not afraid to take a case to trial if it results in a better outcome for you. If you want to pursue a personal injury claim from a car accident, get in touch with our law office today. We offer a risk-free case evaluation, so we can review the specifics of your situation and advise you how to best proceed. To get started on your free initial consultation today, please contact our legal team.
---
"I came to DIMARCO | ARAUJO | MONTEVIDEO firm during the worst time in my life. The law firm was very professional but also kind and caring to my family. They made us feel like family and like they care about us and they knew and felt the pain the we were going through. They listened to our concerns and took a lot of ton of stress off our shoulders when they handled our case. We didn't have to worry about anything. The staff were always friendly, courteous, very helpful, punctual in returning calls and addressing concerns. I thank God because they handled our case and I will never be able to THANK them enough. DIMARCO | ARAUJO | MONTEVIDEO will always receive high recommendations from us and our experience in the future." – Erik A.