Archive: Jan 2017
Workers' comp mandates that an employer's insurance company must pay for an injured worker's medical costs and other expenses related to the injury, as long as the worker sustained the injury during work-related tasks. One type of reimbursement an injured worker may receive in California is repayment for medical mileage.
If you were recently injured at work, speak to one of our Orange County work injury attorneys.
What is Medical Mileage Reimbursement in California?
'Medical mileage' refers to travel costs related to a worker's injuries. Medical mileage includes transportation expenses to and from doctor's offices, physical rehabilitation centers, and the pharmacy. These expenses may include the costs of gas, public transportation fares, parking fees, bridge tolls, and vehicle wear and tear. The state of California has a comparatively lenient medical mileage policy compared to other states, allowing workers to get reimbursed for any miles driven for reasonably necessary treatment of injuries.
While medical mileage reimbursement can serve to help an injured worker pay for his or her medical treatment, California workers' compensation laws do not cover the full cost of the mileage. Instead, workers receive a portion of the cost per mile traveled. Some states adopt the Internal Revenue Service (IRS) mileage rate, which at 2015 stood at 57.5 cents per mile. Other states, including California, set their own mileage rates.  The mileage rate has changed year by year in California, ranging from a low of $0.445 in 2006 to a high of $0.575 in 2015.
Medical mileage compensation in California dropped in 2016 from $0.575 to $0.54 – the lowest it had been since 2011. This year, workers can expect yet another drop that began on January 1, 2017. The medical mileage reimbursement rate in CA now stands at 53.5 cents per mile. If you suffered your workplace injury and paid for transportation for medical treatment in the previous year, your reimbursement rate will be that of the year of your expenses. For example, if you are seeking medical mileage compensation for driving to your doctor's office in 2015, workers' comp would cover your mileage at $0.575 per mile, not the current rate of $0.535.
How to Request Medical Mileage Compensation
Employees receiving workers' compensation for a workplace injury in California are likely entitled to medical mileage reimbursement. This is the case if workers have to travel to and from doctors' offices, insurance companies, therapists, or other places for approved treatment for their workplace-related injuries. To receive medical mileage compensation, you must keep track of all travel expenses relating to your injury treatment. Keep all receipts for these expenses and make copies of them for your own personal records. Then, fill out the California medical mileage expense form.
The expense form asks for the date of travel, where you traveled from, where you traveled to, round trip mileage, parking costs, and toll fees. You must include the name and address of the treatment center you visited. Keep this sheet and continue to update it for the duration of your medical treatment. Once you have fully recovered from your workplace injury, submit the completed form with your receipts attached to the insurance company. If you have long-lasting medical expenses, submit a form every 90 days during treatment. The company will pay your medical mileage reimbursement within 60 days of your submission of the form. If you do not receive your payment within 60 days, contact the insurance company.
Medical mileage reimbursement is your right as an injured worker in California. Despite decreasing rates of repayment per mile in recent years, injured workers can still receive more than half of their travel and related costs back. If you're facing a claim denial, workers' compensation retaliation, or another such issue, contact our team of workers' compensation attorneys in Orange County for legal help today.
Read More
Calling in sick at work – whether you're actually sick or not – is your right as an employee. Taking a sick day is a common request when employees come down with a cold, the flu, or another illness. Sickness may not only render an employee unable to perform his or her job, but it may also be contagious and liable to spread to other employees.
Taking a sick day is often the best solution to getting well and preventing a widespread virus outbreak at work. Yet many employers ask pointed and often very personal questions about the illness, making employees feel that they have to prove their sickness. Learning what your boss can and cannot ask in these situations will help you protect your rights and prevent unfair employer retaliation.
To learn more about employee rights, speak to an Orange County workers' compensation lawyer today.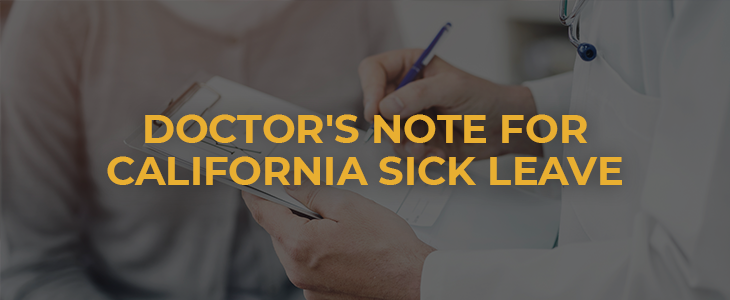 Questions Employers May Ask by Law
Employers often ask the details of the illness and how long the employee expects to be out. There is no federal or state law prohibiting an employer from asking certain questions when an employee calls in sick. Most employee handbooks will have more in-depth details about the sick leave process at a specific place of employment.
To understand which questions your employer may legally ask you, first differentiate between sick days and vacation days. If your employer has a paid time off (PTO) system, you can most likely use your PTO for any purpose. Typically, an employer cannot require an employee to show proof of illness for taking PTO, since an employee doesn't have to be sick to use these vacation days. Unpaid time off, however, may result in the employer requiring proof of illness.
In general, the law allows employers to ask about the details of sick leave, such as the nature of the illness and when the employee expects to return to work. These are general questions that can give the employer an idea of the circumstances of the sick leave. An employer cannot, however, require proof of an illness outside of company policies. An employer must apply sick day regulations to every employee to avoid discriminating against employees who may have disabilities. The Family and Medical Leave Act allows an employee to take an extended sick leave of up to 12 weeks for a number of serious health conditions and other reasons, without employer retaliation. However, an employer can require medical certification of the condition.
New California Paid Sick Leave Laws
California Governor Jerry Brown signed Senate Bill 3, which addressed paid sick days. The new law addresses what qualifies an employee for paid sick leave and when an employee may take this leave. According to the bill, California employees can use paid sick leave beginning on their 90th day of employment. The law covers all employees who work at least 30 days for the same employer within one year – including part-time and temporary employees (with some exceptions). The Paid Sick Leave law also states that it may be unlawful for an employer to require doctors' notes if it interferes with an employee's statutory right to the leave.
Nothing in the new law specifically addresses what an employer can and cannot ask regarding a sick leave. However, the California Department of Industrial Relations has interpreted the statute to mean that it may be unlawful for an employer to deny sick leave on the grounds of not having a doctor's note.
If you need to learn more information about your rights as an employee taking sick leave in California, talk to an attorney. You may have a case against your employer if he or she discriminated against you in asking questions about your illness, punished you for taking sick leave, or denied your sick leave because you could not produce a doctor's note.
Read More
Pay secrecy has been a hotly debated topic recently, especially in light of gender wage gap issues and the question of whether or not salaries should be an allowable point of discussion in the workplace. For years, most employers have held that employees are not allowed to discuss their pay with other coworkers. Some have gone as far as to punish those who do with mandatory unpaid vacations or demotions. Yet these employers are in fact breaking decades-old laws that protect employees' rights to tell their salaries. If your employer has retaliated against you for discussing your salary, learn your rights.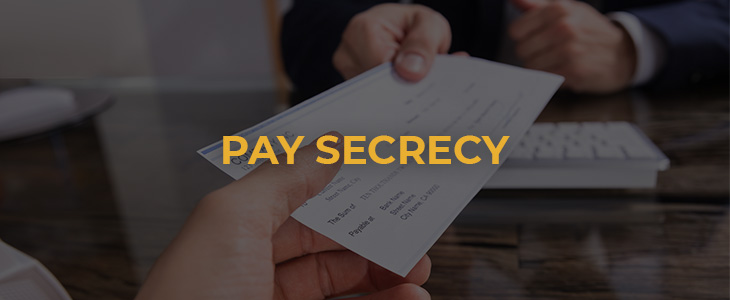 What is Pay Secrecy?
Pay secrecy refers to a common workplace policy that prohibits employees from discussing their pay. Many employee handbooks may impose some such policy, implied or explicitly. Some managers verbally tell employees not to discuss their salaries. However, the National Labor Relations Act of 1935 made talking about pay legal in the American workplace. Even if an employee signs a non-disclosure agreement with an employer, he or she still has the legal right to discuss pay with coworkers and others. Therefore, it is technically illegal for an employer to impose pay secrecy rules or punish employees for discussing salaries.
In 2014, President Obama signed an Executive Order for non-retaliation for Disclosure of Compensation Information. The Order put two executive actions in place to promote the idea of equal pay for equal work and to create salary transparency in the workplace. The goal of the Order was to help women spot discrimination more easily so they can do something about it. Although the Order only reinforced pre-existing laws, it served to educate many Americans on their rights to discuss salaries – an important feat in many workplace environments that had imposed pay secrecy rules. Today, many employees still don't realize their legal rights to discuss salaries by law.
In 2015, California Governor Jerry Brown signed the California Equal Pay Act, an aggressive equal pay law that expanded on existing anti-discrimination in the workplace laws. Under the Act, employers cannot prohibit employees from discussing their own wages or the wages of others. Employers cannot retaliate against employees for discussing their salaries or for encouraging other employees to exercise their rights to do the same. The only time it may be illegal to discuss wages is if an employee in charge of company wage and payroll information discloses information without permission. If you see pay secrecy in your workplace, you have options.
How to Fight Against Employer Retaliation for Wage Disclosures
Despite federal and state-specific laws that enable and even encourage employees to openly discuss their salaries with others, many employers still uphold pay secrecy rules. Many imply these rules instead of stating them outright or in writing, discouraging employees from discussing their wages and implying retaliation if they do. These actions are technically illegal, breaking more than one law that protects employees' rights to talk about what they earn. Furthermore, it could be a sign of wage discrimination based on age, gender, ethnicity, or another demographic.
Pay secrecy has been illegal for more than 80 years. If your employer engages in any pay secrecy rules, you have the right to report your employer to the proper agency. Retain an Orange County workers' compensation lawyer with experience in labor laws for help applying to the right governmental agency – especially if you've faced retaliation from your employer for discussing your salary or the salaries of others. You have every right under federal and California law to talk about your wages in the workplace. You may be eligible for compensation from your employer for lost wages, demotion, or loss of your job in the event of unfair and illegal retaliation.
Read More