Archive: Aug 2016
Article 16-36
¡No Se Deje!
The vast majority of laws in this country are public laws.  This means that they apply equally to the entire public.  Everyone who violates the law is equally subject to the same consequences.  Everyone is entitled to use the same legal defenses and to claim the same rights and legal remedies because they are "Public Laws".  Although each individual must still prove that he/she qualifies for the benefit of a public law, it is available to everyone.  For example, the law of negligence allows every person that proves that he/she was injured by the negligence of another is entitled to just compensation.
The Constitution of the United State also permits private laws to be enacted.  Although few members of the public are aware of private laws, they can be very useful to people that successfully persuade the U. S. Congress to pass a private law.  Private laws are laws that benefit only one person or small group of people in special situations or circumstances.  Imagine what it would be like if the U. S. Congress passed a law that gave you a legal right to do something that the public laws deny to you.  In fact over 7,300 private laws have been enacted since they were first authorized in 1839.
President Obama signed two private laws in the past few years to benefit only the individuals named in those laws.  In the first case, the law granted permanent legal immigration status to the widow of a U. S. Marine who gave birth to their son after he was killed in Iraq.  In the second case, a man in California was given permanent legal immigration status because his mother was killed in a car accident before adopting him.  In each of these cases, the named beneficiaries of these private laws did not qualify for legal immigration status under our immigration laws.
While private laws can be used for other special circumstance situations, immigration cases are the most common.  Anyone seeking to have a private law enacted must find a member of Congress (Senator or Congressman/Congresswoman) that will introduce the private law and sponsor it.  Then the private law must go through the same process as public laws.  It must be approved by the Senate and the House of Representatives and signed by the President.
The introduction of a private immigration law to grant permanent legal status to a person facing deportation does not automatically stop the deportation.  However, Immigration Officials will usually suspend deportation proceedings if the Congressional sponsor requests it in writing.  The Senator or Congressional Representative that introduced the private law must produce evidence that it is necessary to avoid "Unusual or Extreme Hardship" to the beneficiary or a U. S. citizen spouse, parent, or child.
Recent private immigration laws have been enacted to benefit people that do not qualify under public laws through no fault of their own. Examples include errors or excessive delays by government agencies processing applications or petitions. While only exceptionally compelling cases that involve extreme hardship are approved, private laws can be successful for certain people. ¡NO SE DEJE! ®
JESS J. ARAUJO, ESQ.
Read More
Artículo 16-36
La inmensa mayoría de leyes en este país son leyes públicas.  Ello significa que aplican equitativamente a todo el público.  Quien sea que viole la ley es por igual sujeto a las mismas consecuencias.  Todos tienen derecho a usar las mismas defensas legales y a reclamar los mismos derechos y los remedios legales porque éstas son "Leyes Públicas".  Aunque cada persona debe todavía comprobar que él/ella califica para el beneficio de una ley pública, dicha ley está disponible para todos.  Por ejemplo, la ley sobre la negligencia permite que toda persona que demuestra que él o ella fue lesionado por la negligencia de otra, tenga derecho a una compensación justa.
La Constitución de Estados Unidos también permite que se promulguen leyes privadas.  Aunque pocos miembros del público son conocedores de las leyes privadas, estas pueden ser muy útiles a las personas que con éxito persuaden al Congreso de EE.UU. a aprobar una ley privada.  Las leyes privadas son aquellas que solamente benefician a una persona o a un pequeño grupo de personas en situaciones o circunstancias especiales.  Imagínese como sería si el Congreso de EE.UU aprobara una ley que le de a usted el derecho legal a hacer algo que la ley pública le niega.  De hecho más de 7,300 leyes privadas han sido promulgadas desde que fueron autorizadas por primera vez en 1839.
El Presidente Obama firmó en años recientes dos leyes privadas que beneficiaron solamente a las personas mencionadas por nombre en esas leyes.  En el primer caso, la ley le otorgó estatus migratorio legal permanente a la viuda de un Marine de EE.UU.; ella dio a luz al hijo de ambos después que mataron al padre en Iraq.  En el segundo caso, a un hombre en California le dieron estatus migratorio legal permanente porque su madre murió en un accidente vehicular antes de adoptarlo.  En cada uno de estos casos, los referidos beneficiarios de estas leyes privadas no calificaban para el estatus migratorio legal bajo nuestras leyes de inmigración.
Aunque las leyes privadas pueden usarse para otras situaciones con circunstancias especiales, los casos de inmigración son los más comunes.  Todo aquel que busque que le promulguen una ley privada debe encontrar a un miembro del Congreso (Senador o Congresista) que propondrá la ley privada y la patrocinará.  Luego la ley privada debe pasar el mismo proceso que las leyes públicas. Debe ser aprobada por el Senado y la Cámara de Representantes y ser firmada por el Presidente.
La propuesta de una ley privada de inmigración para otorgar estatus legal permanente a una persona que enfrenta deportación no detiene automáticamente la deportación.  Sin embargo, los Funcionarios de Inmigración usualmente suspenderán el procedimiento de deportación  sí el Congresista patrocinador lo solicita por escrito.  El Senador o Representante del Congreso que propone la ley privada debe entregar evidencia de que es necesaria para evitarle "Dificultad  Extrema o Inusual"  al beneficiario o a un cónyuge, padre, o hijo ciudadano de EE.UU.
Las leyes privadas de inmigración más recientes han sido promulgadas para beneficiar a personas que no califican bajo las leyes públicas por faltas que no son propiamente de ellas.  Los ejemplos incluyen errores o excesivos retrasos de las agencias gubernamentales que procesan las solicitudes o peticiones.  Aunque solo se aprueban de manera excepcional casos apremiantes que involucran extrema dificultad, las leyes privadas pueden traer excelentes resultados para ciertas personas.
JESS J. ARAUJO, ABOGADO
Read More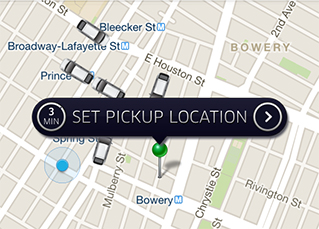 Uber, the popular modern alternative to regulated taxicab services, has been the hot trend for people in need of a chauffeur for the last few years. Many speculate that Uber is poised to overthrow taxis as the ride-sharing service of choice across America, but this success hasn't come without pitfalls, mostly in the form of lawsuits against the company and its drivers for negligence and alleged acts of driver violence. Now, Uber faces a new class action suit – not from its customers, but from its drivers.
Uber's Major Misclassification
Uber is no stranger to lawsuits. In the mere three years that Uber has been a peer-to-peer taxi service, it's been in dozens of cases involving alleged assaults, sexual harassment, and kidnappings by drivers. Uber and Lyft together have been involved in the deaths of at least 16 people. The difference in the latest lawsuit is that Uber customers aren't the plaintiffs. Instead, Uber's own drivers are filing a class action suit on the basis that the company classifies its more than 300,000 drivers in California alone as independent contractors instead of employees.
This misclassification has allowed Uber to avoid financial obligations, including paying unemployment insurance, Social Security, workers' compensation, and other important benefits. The company also doesn't have to reimburse employees for work-related costs such as gas, vehicle maintenance, highway tolls, and health insurance. Had Uber correctly classified its workers as employees, the law would require the company to provide these payments and benefits.
Drivers also allege that Uber doesn't pay employees living wages in exchange for work they perform. Many claim that Uber has thus far gotten away with all this by classifying itself as a technology company rather than a transportation company. This loophole enables it to operate under the rules of a company that simply connects people with independent contractors who provide ride services rather than a company that provides this service, itself.
Ongoing Allegations Against Uber
In addition to these allegations, Uber faces claims that the company has been dishonest with customers about how it pays drivers. Uber advertises that customers do not have to tip drivers, since the company includes driver gratuity in the fare it charges. However, drivers claim they do not actually receive the gratuity included for them, furthering the evidence that Uber has been unfair to drivers.
In a recent motion for a class action lawsuit filed in San Francisco, the judge held that Uber would not be a viable business without drivers. Uber's revenue does not come from its software distribution, but rather from the rides its drivers provide – thus making it a business with employees, not independent contractors. Uber has significant funds available for legal representation, making actions against it difficult to win. However, the company may have finally run out its luck.
Uber has agreed to pay an $84 million settlement to drivers in California and Massachusetts for its employee misclassification "mistake." However, it is unknown if the company is stipulating to keep drivers as contractors for the settlement. Reporters claim that Uber may have the upper hand in negotiations, claiming that the same judge who ruled against them in San Francisco violated Uber's First Amendment and Federal Arbitration Act rights.
This is an ongoing class action lawsuit against Uber, changing day by day as more details become available to the public. If you're an Uber driver in California whom Uber has misclassified as an independent contractor, seek legal help from local workers' compensation attorneys. You may have a case against Uber you can add to the ongoing class action lawsuit, and be eligible to receive compensation for lost wages and benefits.
Read More
Artículo 16-35
Por años, muchos clientes me han dicho que han sido amenazados con cárcel si no pagaban sus deudas. Todas estas personas eran inmigrantes Latinos. En muchos casos, estas personas creyeron que podrían ser enviados a cárcel por no pagar sus deudas. Como resultado, muchos de ellos pidieron dinero prestado de amigos y familiares  y vendieron vehículos y objetos personales para pagar dichas deudas.
USTED NO PUEDE SER ENVIADO A CARCEL POR DEBER DINERO O POR NO PAGAR SUS DEUDAS EN ESTE PAIS.
Entonces, ¿porqué los acreedores mienten a los inmigrantes Latinos y los amenazan con cárcel cuando saben que eso no es verdad?  Porque saben que muchos inmigrantes Latinos no conocen la ley y no buscarán consejo legal para averiguar si ello es verdad. Es posible que algunos de estos inmigrantes vengan de países donde la gente puede ser encarcelada por no pagar sus deudas. Pero la razón principal por qué los acreedores hacen falsas amenazas de cárcel es que les da resultado. Cada año  los acreedores recuperan millones de dólares de inmigrantes Latinos mintiendo y usando falsas amenazas de cárcel.
Los acreedores sí pueden demandar a los deudores en Cortes Civiles, y si ganan, pueden intentar hacer cumplir el Fallo para cobrar el dinero que se les debe. Los acreedores pueden usar el fallo para sacar dinero de alguna cuenta bancaria del deudor o de su salario para pagar la deuda. Pero este procedimiento legal no es muy efectivo y es muy costoso para los acreedores. Y, aún si los acreedores gastan dinero en abogados y cortes y finalmente obtienen un  fallo judicial declarando que se debe el dinero, todavía tienen que intentar cobrarlo.
Si los deudores no tienen dinero en el banco y no están comprando casa, es muy difícil que alguna vez se recupere el dinero con base en el fallo. Y, si el fallo es por una gran cantidad de dinero, los deudores pueden impedir que se tome dinero de sus salarios cambiando de trabajo. Puede ser muy difícil que los acreedores encuentren cual es el nuevo empleo del deudor. Y, los deudores también pueden declararse en Bancarrota.
Los hospitales han sido conocidos por ser especialmente agresivos y engañosos al tratar de obtener el pago de sus facturas. Un cliente reportó que representantes de un hospital le dijeron que no se le permitiría salir del hospital hasta que él y sus familiares firmaran un convenio de pagar la cuenta. Antes que nada, detener a alguien contra su voluntad, aún por un corto tiempo, restringiéndolo de su libertad es ilícito. El deudor debió haber intentado salir inmediatamente. Si se le impedía salir, él entonces podría demandar al hospital y sus representantes y también incluir cargos criminales contra el representante que rehusó dejarlo salir.
En muchos casos, los representantes de los hospitales realmente no intentarán impedir que el paciente deudor salga. Saben que es contra  la ley y no se expondrán ellos mismos o al hospital a las consecuencias legales de realmente detener a alguien. Pero también saben que muchos deudores no conocen ésto y que firmarán los convenios, luego harán los pagos, sin saber que no podían ser detenidos ilegalmente en el hospital.
Recuerde, usted no puede ser enviado a la cárcel por deber dinero y no debería firmar ningún documento  hasta que alguien confiable se lo haya explicado. Usted puede y debe insistir en ello.   
JESS J. ARAUJO, ABOGADO
Read More
Article 16-35
¡No Se Deje!
Over the years, I have been told by many clients and others that they had been threatened with jail if they did not pay their bills.  All of these people were Latino immigrants.  In many cases, these people believed that they could be sent to jail for not paying their bills. As a result, many of them borrowed money from friends and family and sold cars and personal property to pay those bills.
YOU CANNOT BE SENT TO JAIL FOR OWING MONEY OR FOR NOT PAYING YOUR BILLS IN THIS COUNTRY.
So, why would creditors lie to Latino immigrants and threaten them with jail when they know that this is not true?  Because these creditors know that too many Latino immigrants do not know the law and will not get legal advice to find out if it is true.  It is possible that some of these immigrants come from countries where people can be put in jail for not paying their bills. But the main reason that creditors make false threats of jail is that it works for them.  Each year creditors collect millions of dollars from Latino immigrants by lying to them and using false threats of jail.
Creditors can sue debtors in Civil Courts and, if they win, they can try to enforce the Judgment to collect the money they are owed.  Creditors can use a Judgment to take money the debtor has in the bank or part of the debtor's paychecks to repay the debt.  But this legal procedure is not as effective and is very costly for creditors.  And, even if the creditors spend the money for attorneys and court costs and ultimately get a court judgment declaring that the money is owed, they still have to try to collect the money.
If the debtors do not have money in the bank and are not buying a home, it is very difficult to ever collect on the judgment.  And, if the judgment is for a large amount of money, debtors can avoid having money taking from their paychecks by changing jobs.  It can be very difficult for creditors to find out who the debtor's new employer is.  And, creditors can also file for Bankruptcy.
Hospitals have been known to be especially aggressive and deceptive in trying to get their bills paid.  One client reported that hospital representatives told him that he would not be allowed to leave the hospital until he and family members signed agreements to pay the bill.  First of all, detaining someone against his will, for even a short period of time, depriving him of his liberty, is illegal.  The debtor should have immediately tried to leave.  If he was stopped from leaving, he could then sue the hospital and its representative and also press criminal charges against the representative that refused to let him leave.
In most cases, the hospital representatives will not actually try to stop the debtor patient from leaving.  They know that it is against the law and they would not subject themselves or the hospital to the legal consequences of actually detaining someone.  But they also know that many debtors do not know this and will sign the agreements, then make the payments, never knowing that they could not be legally detained at the hospital.
Remember, you cannot be sent to jail for owing money and you should not sign any documents until you have had them explained to you by someone you trust.  You can and should insist on this.  ¡NO SE DEJE! ®
JESS J. ARAUJO, ESQ.
Read More
There's no longer any question about the gender bias against women in California's workers' compensation system. The system routinely discriminates against female workers, attributing work-related injuries to the pre-existing condition of "being a woman." Plaintiffs claim, for example, that the workers' compensation office dismissed claims of carpal tunnel syndrome due to work-related repetitive motion as the result of breastfeeding or menopause. Male workers suffering carpal tunnel, on the other hand, received benefits for their injuries without question.
Ongoing Class-Action Lawsuit in California
There is currently a class-action lawsuit against the California workers' compensation system. A group of individual female workers, alongside the Service Employees International Union (SEIU) California State Council, are advocating for female workers' rights. The plaintiffs state that the workers' compensation system decreased disability benefits for women on the basis of "risk factors" associated with their gender or capacity to reproduce.
The lawsuit holds that the state has unfairly deprived women of rightful compensation, furthering the ongoing gender wage gap in America. The goal of the lawsuit is to put an end to discriminatory practices in California's workplace and grant the wronged women compensation for their work-related injuries. The lawsuit brings up unconstitutional reductions of disability compensation for women that occur as the result of nothing other than stereotypes against women and the female body.
Proven Workers' Compensation Gender Disparities
Claims in the current lawsuit include women who experienced unfair compensation deprivations based on presumptions about breast cancer and assumptions based on the outdated belief that a woman's breasts are only valuable in that they nurse children. To this end, the plaintiffs assert that workers' compensation gives women past childbearing age $0 for breast removal, while awarding men $25,000 for prostate removal. This significant disparity is proof of California's broken and discriminatory system.
One woman whose medical evaluator proved her breast cancer was work-related received zero dollars in permanent disability from the loss of her breast. California uses an American Medical Association guide to make these decisions. The victim suffered scarring, numbness, and emotional distress after the removal of her breast, yet did not receive any money for disability. Workers' compensation awards male counterparts, on the other hand, disability benefits for work-related prostate removal. California's workers' comp system states that prostate removal due to work-related cancer leaves a man 16-20% disabled.
Another plaintiff suffered reduced disability compensation because her qualified medical evaluation (QME) attributed 20% of her work-related carpal tunnel syndrome to her age and gender, stating that carpal tunnel is "almost ubiquitous" in the female population in her age bracket. Had this plaintiff been a man, she would not have suffered the 20% loss. In a similar case, a woman was pregnant when she made an appointment with her QME for work-related carpal tunnel. The QME reported her syndrome was the result of her pregnancy and breastfeeding, even though the plaintiff explained her symptoms appeared long before she was ever pregnant.
The Push Toward Reform
In workers' compensation cases, gender stereotypes can cause serious damage. Women may endure financial hardship and lifelong physical, mental, and emotional damages without just compensation – all because of being born female. Women deserve awards for work-related injuries just like men do, and will continue to fight until they see a real system reform. The women involved in the class action are calling for a system-wide change, compensation for women the system has wronged in the past, and justice for future women in California's workforce.
California's workers' compensation laws are long overdue for a reevaluation, and significant system changes are needed to put an end to gender discrimination. The current lawsuit may make important strides toward achieving a bias-free workers' compensation system, but until then, California's female workers must fight to receive equal benefits and rewards as their male counterparts.
Read More
Artículo 16-34
Un jurado Federal le adjudicó a Moisés Méndez 3 millones de dólares en su caso de represalias ilícitas de parte de su empleador, Westin Hotels.  El Sr. Méndez había trabajado como panadero en el hotel por 7 años.  Se quejó verbalmente y por escrito con sus supervisores de ser acosado y discriminado por sus compañeros de trabajo.  El Sr. Méndez acusó a sus compañeros de insultarlo, humillarlo y de burlarse de él porque es Latino, además de golpearlo en el rostro.
El reclamo de represalias del Sr. Méndez se basó en el hecho que su empleador instaló secretamente una cámara en su área de trabajo apenas 3 semanas después de que se quejó del acoso y discriminación.  Su empleador testificó que la cámara fue instalada para protegerlo, y para determinar la identidad de los supuestos acosadores.  El abogado del Sr. Méndez efectivamente indicó que toda la grabación estaba dirigida solamente sobre el Sr. Méndez trabajando en su área y que él ya sabía y había reportado la identidad de los acosadores.  La demanda del Sr. Méndez también contenía un reclamo por acoso porque su lugar de trabajo era un "ambiente hostil" ilícito.
El empleador del Sr. Méndez nunca hizo una oferta para llegar a un arreglo del caso.  Un total de  22 testigos dieron su testimonio en un juicio que duró 3 semanas.   El Jurado Federal adjudicó al Sr. Méndez 1 millón de dólares por dolor y sufrimiento y 2 millones en daños y perjuicios para castigar al empleador por tomar represalias ilícitamente contra él después que ejerció su derecho a quejarse de acoso y discriminación.
ESTE CASO FUE DECIDIDO BAJO LA LEY FEDERAL LA CUAL APLICA EN TODO ESTADO.  CALIFORNIA, COMO CUALQUIER OTRO ESTADO, TIENE LEYES ESTATALES SIMILARES PARA PROTEGER A LOS TRABAJADORES DEL ABUSO DE LOS EMPLEADORES.
Las represalias ilícitas incluyen cualquier acción adversa que se tome contra un trabajador por registrar una queja o por apoyar la queja de otro trabajador sobre una violación de derechos.  Igual que en la demanda del Sr. Méndez, la queja más común es que el trabajador primero fue víctima de acoso y discriminación y que después el empleador cambió su situación laboral para castigarlo por quejarse. Las represalias ilícitas frecuentemente incluyen un cambio en las tareas o del lugar de trabajo, cambio del título o la posición, una reducción de salarios y aún la remoción permanente.
Las represalias ilícitas del empleador son consideradas violaciones serias a los derechos civiles del trabajador. De hecho un trabajador tiene derecho a compensación por represalias aún si las acciones de las que originalmente se quejó no eran ilícitas. La ley no prohíbe el fastidio en broma u otros insultos menores y comunes que no son serios. Para que el reclamo de discriminación o acoso sea compensable, la acción reclamada debe ser lo suficientemente grave como para cambiar las condiciones del ambiente laboral. Repito: el reclamo por represalias puede ser compensable aún si las quejas que causaron las represalias no lo son.
Los Latinos deben tomar nota de este caso y de muchos otros que demuestran que los trabajadores en este país tienen poderosos derechos, independientemente de su estatus migratorio.  Estos derechos no son de beneficio a menos que las víctimas actúen rápidamente consultando con un abogado y cooperando en la preparación y presentación del caso.
JESS J. ARAUJO, ABOGADO
Read More
Article 16-34
¡No Se Deje!
A Federal jury in New York awarded Moises Méndez 3 million dollars in his case for unlawful retaliation by his employer, Westin Hotels.  Mr. Méndez had worked at the hotel as a baker for 7 years.  He complained to his supervisors verbally, and in writing, of being harassed and discriminated against by his coworkers.  Mr. Méndez accused his coworkers of insulting and humiliating him and making fun of him because he is a Latino and of punching him in the face.
Mr. Méndez' retaliation claim was based on the fact that his employer secretly installed a camera in his work area just 3 weeks after he complained of the harassment and discrimination.  His employer testified that the camera was installed to protect him, and to determine the identity of the alleged harassers.  Mr. Méndez' attorney effectively pointed out that all of the film was directed only on Mr. Méndez working in his area and that he already knew and reported the identity of the harassers.  Mr. Méndez' lawsuit also contained a claim of harassment because his work place was an unlawful "hostile environment".
Mr. Méndez' employer never made any offer to settle the case.  A total of 22 witnesses testified in a trial that lasted 3 weeks.  The Federal jury awarded Mr. Méndez 1 million dollars for pain and suffering and 2 million dollars in punitive damages to punish his employer for unlawfully retaliating against him after he exercised his right to complain of harassment and discrimination.
THIS CASE WAS DECIDED UNDER FEDERAL LAW WHICH APPLIES IN EVERY STATE.  CALIFORNIA, LIKE EVERY OTHER STATE, HAS SIMILAR STATE LAWS TO PROTECT EMPLOYEES FROM EMPLOYER ABUSE.
Unlawful employer retaliation includes any adverse action taken against an employee for filing a complaint or for supporting another employee's complaint of a violation of rights.  Like Mr. Méndez' lawsuit, the most common claim is that the employee was first the victim of harassment and discrimination and that the employer then changed his employment situation to punish him for complaining.  The illegal retaliation often includes a change in job duties or location, a change of title or position, a reduction in salary or even permanent dismissal.
Unlawful employer retaliation is considered a serious violation of an employee's civil rights.  In fact an employee is entitled to compensation for retaliation even if the actions he originally complained of were not illegal.  The law does not prohibit simple teasing or other common insults that are not serious.  The actions must be serious enough to change the conditions of the work environment.  Nonetheless, retaliation for complaining about such conduct is still illegal.
Latinos should take notice of this case and many others which demonstrate that employees in this country have powerful rights regardless of their immigration status.  They are of no benefit however unless the victims promptly take action by consulting an attorney and cooperating in the preparation and presentation of the case.  ¡NO SE DEJE! ®
JESS J. ARAUJO, ESQ.                                                                                                                                                                
Read More
Distractions on the job have become more and more common with the advent of mobile technologies and smartphones, with assistance from apps like Candy Crush and Pokémon GO. The hype that surrounded Pokémon GO was followed quickly by news reports of injuries including vehicles striking pedestrians playing the game, drivers using the app behind the wheel, and employees chasing Pokémon at work. Now, employers and employees are asking if workers' compensation covers injuries caused by distraction.
The Risks of Distraction to Employees
Employees across every industry can suffer damages due to distraction on the job, from tripping and falling on an obstacle in the office to more dire accidents involving heavy equipment in the construction and manufacturing industries. When employees operate company vehicles or pieces of machinery while texting, emailing, scrolling through social media, or playing Pokémon GO, they risk injuring themselves and those around them.
For working professionals, on-the-job distractions are no game. The potential impacts that mobile apps and other distractions can cause employees include safety risks, customer management, fleet safety, and data privacy risks. An employee could cause serious harm, including crashing a company vehicle, striking a pedestrian, making errors on an assembly line, and more. When the worst happens, employees need to understand whether workers' compensation provides coverage for medical costs, lost wages, and disability benefits.
Workers' Compensation in California
The point of the workers' compensation system across the nation is to help injured workers recover from accidents that occur at the workplace or while acting within a job's capacity. A worker can file for workers' compensation for any injury while on the job, without having to prove an employer's negligence to receive money for medical bills and other damages. When an employee is at fault for the injury, however, the rules can change.
Depending on the circumstances of your workplace injury, the courts may rule either way. Workers' compensation typically operates on a no-fault system, meaning that an injured worker's own negligence is not considered. In most cases, workers' compensation simply covers the injured employee, even if Pokémon GO or another cause distracted him or her and directly caused the accident.
However, one notable exception is that under federal and California labor laws, workers' compensation does not cover any injuries resulting from willful negligence or horseplay. If an employee violates an employer's safety rules or performs employment duties while intoxicated, distracted, or otherwise indisposed, workers' compensation will not necessarily cover resultant injuries. If an employer and an employee have different accounts about what happened, and who was or was not negligent at the time of the accident, the employer can go to court.
If the employer has evidence that the injured employee's accident was the result of a distraction such as Pokémon GO, he or she has a horseplay or negligence defense. In these cases, the employer can argue the injuries only occurred because of the employee's carelessness or goofing off, and was in no way related to an employer mistake. If the employer has enough evidence to support this claim, such as surveillance videos of the accident or eyewitness testimonies, the courts may rule against the distracted employee.
Distractions on the job can go both ways when it comes to workers' compensation coverage. Arm yourself with a skilled Orange County workers' compensation attorney if your employer tries to argue against you in a workers' compensation claim. California requires employers to carry workers' compensation insurance, regardless of the size of your company. Report your accident to your employer immediately, seek medical attention for injuries, and then file a claims report. An attorney can help you with denied claims or cases where you were partially at fault.
Read More
Artículo 16-33
Cuando los matrimonios terminan en divorcio, la vida de los hijos cambia para siempre.  Estos cambios frecuentemente causan que los hijos sufran tensión emocional severa, temor, confusión y resentimiento.  Y entre los resultados más dolorosos de un divorcio está la terminación o interrupción de la valiosa relación de los niños con los abuelos.  La ley debe proveer una manera de balancear los derechos de los padres a decidir quién puede visitar a sus hijos con los derechos de los niños y de los abuelos para continuar disfrutando sus importantes relaciones.
La 14a. enmienda de la Constitución de EE.UU. provee a los padres un derecho fundamental a tomar decisiones acerca del cuidado, custodia y control de sus hijos y de sus vidas.  Si un padre se opone a la visita de un abuelo, la corte, solo puede conceder visita si primero empieza con la presunción de validez de la decisión de los padres de que la visita no es en el mejor interés del hijo.  Esta presunción se basa en la creencia que un padre competente actuará en el mejor interés del hijo.  Esto no significa, sin embargo, que la decisión de los padres no está sujeta a una revisión judicial.
En California, una corte puede conceder  derechos a visitas razonables al abuelo de un menor si la corte decide que tales visitas son en el mejor interés del hijo.  Si ambos padres del menor están de acuerdo en que no se le debe conceder derechos a visita a un abuelo, la corte debe negar la visita a menos que el abuelo demuestre que la visita aún encima de la objeción de los padres, es en el mejor de los intereses del hijo.  Los abuelos que piden derecho a visitas deben registrar una petición y demostrar que tienen una relación pre-existente con el nieto lo cual ha creado una unión sentimental y que la continuación de tal relación es en el mejor interés del menor.
Las visitas de abuelo no serán concedidas si los padres del menor están casados a menos que:
Los padres estén separados y vivan aparte de manera permanente o indefinida;
El paradero de uno de los padres ha sido desconocido para el otro padre por más de 30 días;
Uno de los padres se une con el abuelo en solicitar que la corte apruebe la visita;
El menor no está viviendo con sus padres;
El menor ha sido adoptado por un padrastro.
Las visitas de abuelo basadas en alguna de las circunstancias de arriba se pueden terminar por uno de los padres si las circunstancias que lo califican cesan de existir.
La corte puede asignar proporcionalmente entre los padres el porcentaje de tiempo de la visita del abuelo para determinar la cantidad de manutención (child support) que deben pagar.  La corte puede ordenar que un padre o abuelo le pague al otro los costos de la visita incluyendo transporte, costos médicos, cuidado de niños, y otras necesidades.
Cada estado tiene leyes para la visita de los abuelos pero los derechos y condiciones varían grandemente.  La tendencia nacional es permitir que los abuelos visiten a sus nietos cuando los padres nunca se han casado, se han divorciado o cuando uno de los padres muere.  Grupos por los derechos de los padres han indicado que podrían oponerse al razonamiento legal que les concede a los abuelos más derechos a visita si los padres no están casados.
JESS J. ARAUJO, ABOGADO
Read More