Archive: Aug 2017
¡No Se Deje!
Child abandonment is a tragic problem that has been growing worse for years.  The news stories about newborn infants that are found in dumpsters do not begin to reveal the extent of the problem.  Hundreds of newborn infants are abandoned each year and too many of them die as a result.  Experts have identified many recurring causes of parental abandonment including children born as a result of extra-marital affairs or rape.  Others do it because the child is "illegitimate" or because they feel a child will interfere with their planned careers or lifestyle.
In 2001, California enacted the SAFELY SURRENDERED BABY LAW, becoming one of the first states to do so.  Today all of the 50 states have similar laws which allow desperate mothers who are unwilling or unable to keep their babies to surrender them safely and legally without fear of being prosecuted as criminals.  Unfortunately, newborn babies are still being abandoned today.  It was announced that in one of this cases an Orange County woman was being tried for attempted murder and child abuse after leaving her newborn baby in a dumpster in her apartment complex.  If convicted, she could be sentenced to life in prison.  Surrendering her baby under the Safely Surrendered Baby Law would have permitted her to legally walk away from the child with no further parental responsibility.
THE CALIFORNIA SAFELY SURRENDERED BABY LAW
A parent, or person having lawful custody of a newborn infant, is allowed to legally and safely surrender it if done within 72 hours of birth.
The infant must be surrendered to a public or private hospital, designated fire-station or other safe surrender site.  The surrender is confidential and the person delivering the baby will not be required to identify themselves, the parents, or the baby.  The person is then free to leave.
A confidentially coded identification bracelet is paced on the baby's ankle and a matching bracelet is offered to the person who surrendered the baby.  This makes it possible to identify the child if the parent elects to reclaim the baby within the 14 day period permitted by law.
The person surrendering a baby is given an opportunity to voluntarily provide some basic medical information which may be necessary to provide medical care in the future.  The medical questionnaire provides the following statement:
NOTICE: THE BABY YOU HAVE BROUGHT IN TODAY MAY HAVE SERIOUS MEDICAL NEEDS IN THE FUTURE THAT WE DON'T KNOW ABOUT TODAY.  SOME ILLNESSES, INCLUDING CANCER, ARE BEST TREATED WHEN WE KNOW ABOUT FAMILY MEDICAL HISTORIES. IN ADDITION, SOMETIMES RELATIVES ARE NEEDED FOR LIFE SAVING TREATMENTS. TO MAKE SURE THIS BABY WILL HAVE A HEALTHY FUTURE, YOUR ASSISTANCE IN COMPLETING THIS QUESTIONNAIRE FULLY IS ESSENTIAL. THANK YOU.
The person can decline to provide the information, provide the information before leaving, or take the questionnaire and decide later.  Surrendering a baby under this law is safe and legal.  Abandoning a baby any other way can be dangerous or fatal and is a serious crime punishable by imprisonment.  ¡NO SE DEJE! ®
JESS J. ARAUJO, ESQ.  
Read More
Artículo 17-24
¡No Se Deje! ®
La administración Obama puso en funcionamiento un servicio que permite que abogados y familiares de personas en custodia de inmigración los localicen rápidamente.  Funcionarios de Immigration and Customs Enforcement-I.C.E. (en español la Agencia de Inmigración y Aduanas) tiene un sitio en internet que está disponible al público para averiguar si alguien está bajo custodia de inmigración y dónde está detenido.  El sitio en internet es www.ice.gov.
Abogados de inmigración y  organizaciones de los Derechos de los Inmigrantes se han quejado durante años que el sistema de inmigración hace extremamente difícil encontrar a los detenidos.  Describen que es injusto e innecesariamente complicado y consume demasiado tiempo.  Aún los abogados de inmigración reportan que puede llevar semanas averiguar dónde tienen a un detenido.  Funcionarios de inmigración confirman que usan más de 250 cárceles, prisiones y centros de detención a lo largo de la nación para custodiar a más de 30,000 inmigrantes bajo sospecha.  Críticos del sistema dicen que es ilógico, costoso y problemático trasladar abruptamente a los detenidos de un estado a otro.
Alguien que estuvo detenido dijo que fue trasladado a diferentes centros en 7 estados en un período de 14 meses.  Se quejan que estas decisiones se toman frecuentemente a fin de usar las "camas más baratas",  y que los detenidos y sus familiares no son informados antes del traslado.
La administración Obama ha cambiado algunas otras políticas al responder a las muchas quejas sobre los procedimientos de inmigración de la administración del ex presidente Bush.  Estas políticas incluyen cambiar la naturaleza de los centros de detención de un ambiente de castigo o penal-criminal a centros de ley civil designados para custodiar a personas, previo a la deportación.  Ya no detienen a ciertos solicitantes de asilo, revisaron el programa de servicio médico, y han entrenando empleados para que decidan con más cuidado quien debería ser detenido y en qué lugar.
La administración Obama también dejó de usar el controversial centro de detención  T. DON HUTTO para custodiar a familias enteras.  Protestantes realizaron varias manifestaciones y los familiares detenidos estuvieron en huelgas de hambre para protestar por los métodos ásperos e inapropiados que usaban ahí.  Ahora se permite que los detenidos se vistan con ropa normal en lugar de los uniformes de presidiarios, se les permite más tiempo para recreación y han mejorado los servicios médicos y dentales.
Para usar el localizador de internet de detenidos, los usuarios deben ir al sitio www.ice.gov y escribir el país de origen del detenido, luego su nombre y fecha de nacimiento o ya sea su número de Registro de Extranjero (Alien Registration).  El nombre tiene que ser escrito exactamente tal como está registrado en los archivos del centro de detención.  No hay información disponible durante el proceso de registro pero los funcionarios  dicen que intentan tener la información disponible dentro de los 30 minutos siguientes.  Hay que tomar en cuenta que la información del lugar puede tener hasta 8 horas de antigüedad así que los usuarios deben llamar al centro para confirmar la presencia del detenido antes de visitarlo.  Las instrucciones sobre cómo usar el localizador en internet están en varios idiomas incluyendo Español.
Encontrar a los detenidos reduce de inmediato la preocupación innecesaria y les permite a ciertos detenidos una representación legal más efectiva.  La mejor solución sería no trasladar en absoluto a los detenidos a lugares remotos.  ¡NO SE DEJE! ®
JESS J. ARAUJO, ABOGADO
Read More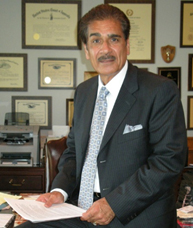 Article 17-24
¡No Se Deje!
The Obama administration made available a service that allows attorneys and family members of people in immigration custody to locate them quickly.  Immigration and Customs Enforcement (I.C.E.) officials have established an internet site that is available to the public to find out if someone is in immigration custody and, if so, where he is being held.  The website is www.ice.gov.
Immigration attorneys and Immigrant Rights organizations have complained for years that the immigration system makes it extremely difficult to find detainees.  They describe a system that is unnecessarily and unfairly complicated and time consuming.  Even immigration attorneys report that it can take weeks to find out where a detainee is being held.  Immigration officials confirm that they use more than 250 jails, prisons and detention facilities throughout the nation to hold more than 30,000 suspected immigrants.  Critics of the system say that it is illogical, costly and disruptive to transfer detainees abruptly from one state to another.  One former detainee reports that he was transferred to facilities in 7 states over a 14 month period.  They complain that these decisions are often made in order to use the "cheapest beds" and that detainees and their families are not informed prior to the transfers.
The Obama administration has made several other policy changes in responding to the many complaints about the immigration procedures of the Bush administration.  These policies include changing the nature of detention facilities from a penal-criminal or punishment environment to a civil law facility designed to hold people prior to deportation.  They have stopped detaining certain asylum applicants, reviewed the medical services program, and have trained employees to more carefully decide who should be detained and where.
The Obama administration also stopped using the controversial T. DON HUTTO detention facility to hold entire families.  Protesters conducted several demonstrations and detainee families went on hunger strikes to protest the harsh and inappropriate methods used there.  Detainees are now allowed to wear street clothes instead of prison uniforms, they are allowed more time for recreation, and have improved medical and dental services.
To use the online detainee locator, users must go to the website www.ice.gov and type the detainee's country of origin and either his name and date of birth or his Alien Registration number.  The name must be typed exactly as it is listed in the detention facility records.  No information is available during the booking process but officials indicate that they try to have the information available within 30 minutes thereafter.  Note that location information can be as much as 8 hours old so users should call the facility to confirm the detainee's presence prior to visiting.  Instructions on how to use the online locator are provided in several languages including Spanish.
Finding detainees promptly reduces unnecessary anxiety and allows detainees to obtain more effective legal representation.  The better solution would be to not transfer detainees to remote places at all.  ¡NO SE DEJE! ®
JESS J. ARAUJO, ESQ.
Read More
Artículo 17-20
¡No Se Deje! ®
Los contratos se usan para garantizar que las personas puedan exigir legalmente el cumplimiento de los términos de sus acuerdos.  En nuestra sociedad, se considera "JUSTO" exigir a las personas o compañías que cumplan lo que pactaron.  Algunos contratos no serán permitidos por las cortes y no podrá obligarse su cumplimiento.  Las cortes no harán que se cumplan contratos que tienen que ver con obligaciones ilícitas.  Esto incluye contratos de deudas por apuestas privadas donde las apuestas son ilícitas, contratos por la venta de substancias ilícitas tales como drogas o armas de fuego ilícitas, o contratos por servicios ilícitos tales como la prostitución donde ésta es ilícita.
Algunos contratos no serán permitidos o aplicables si son extremadamente injustos hacia una de las partes.  Estos contratos son llamados contratos "OPRESIVOS".  Las cortes han rechazado exigir el cumplimiento de contratos que son "inusualmente crueles y ofensivos a la conciencia y tan excesivamente injustos que a quien los ejecuta no se le puede permitir beneficiarse del mismo."  Las cortes en estos casos aplican el sentido de conciencia y moralidad del juez para determinar si los términos del contrato son opresivos y por lo tanto no pueden exigirse.  Las cortes han dicho que los contratos opresivos son aquellos tan injustos que ninguna persona razonable estaría de acuerdo y que ninguna persona honesta los aceptaría.
Las cortes consideran muchos factores para determinar si un contrato es opresivo.  Consideran el respectivo poder de regateo, la edad y la capacidad mental de las partes.  Consideran si se usó el fraude o el dolo o si una parte fue engañada o se le hizo entender mal los términos o firmar bajo coacción.  A la parte injuriosa no se le concederán los remedios legales que dispone el contrato opresivo.  En el caso de la venta de un producto a un precio excesivo, la víctima no estará obligada a pagar el precio.  En un contrato de servicios, la víctima no estará obligada a prestar el servicio.
En el famoso caso de Williams vs. Walker Thomas Furniture Company, la corte explicó lo que es un contrato opresivo y por qué la justicia exige liberar a la víctima de sus términos:
"Comúnmente, quien firma un acuerdo sin pleno conocimiento de sus términos podría considerarse que asume el riesgo que ha entrado en una negociación unilateral. Pero cuando una parte con poco poder de negociación, y en consecuencia con muy poca opción, firma un contrato comercial opresivo con poco o ningún conocimiento de sus términos, es poco probable que alguna vez hubiera dado su consentimiento, o siquiera una manifestación objetiva de consentimiento de todos los términos. En tal caso la regla usual de que los términos del convenio no van a ser cuestionados debe ser abandonada y la corte debe considerar si los términos del contrato son tan injustos que debe impedirse su cumplimiento."
Muchas personas asumen que si han firmado un contrato deben cumplir con sus términos.  Asumen que si fue escrito por los abogados de la otra parte éste debe ser legal y exigible.  Existen muchas defensas en los contratos que pueden usarse para cambiar, limitar, o cancelar algunos o todos sus términos.  Siempre es mejor insistir que le den tiempo para que un abogado revise un contrato importante ANTES de ser firmado.  Si esto no se hizo, aún los contratos firmados pueden algunas veces ser cancelados si son extremadamente injustos. ¡NO SE DEJE! ®
JESS J. ARAUJO, ABOGADO.
Read More
¡No Se Deje!
Contracts are used to ensure that people can legally enforce the terms of their agreements.  In our society, it is considered "FAIR" to require people or companies to deliver what they contracted to do.  Some contracts will not be allowed by the courts and will not be enforced.  Courts will not enforce contracts that deal with illegal obligations.  This includes private gambling debts where gambling is illegal, contracts for the sale of illegal substances such as drugs or illegal firearms, or contracts for illegal services such as prostitution where it is illegal.
Some contracts will not be allowed or enforced if they are extremely unfair to one of the parties.  These contacts are called "UNCONSCIONABLE" contracts.  Courts have refused to enforce contracts that are "unusually harsh and shocking to the conscience or so grossly unfair that the perpetrator cannot be allowed to benefit from it."  The courts in these cases apply the judge's sense of conscience and morality to determine if the contract terms are unconscionable and therefore unenforceable.  Courts have said that unconscionable contracts are those so unfair that no reasonable person would agree to it and no honest person would accept.
Courts consider many factors to determine if the contract is unconscionable.  They consider the respective bargaining power, age and mental capacities of the parties.  They consider whether fraud or deceit was used or if one party was misled or caused to misunderstand the terms or to sign under duress.  The abusive party will not be awarded the legal remedies the unconscionable contract provides.  In the case of the sale of a product for an excessive price, the victim will not be required to pay the price.  In a service contract, the victim will not be required to perform the service.
In the famous case of Williams vs. Walker Thomas Furniture Company, the court explained what an unconscionable contract is and why justice requires liberating the victim from its terms:
"Ordinarily, one who signs an agreement without full knowledge of its terms might be held to assume the risk that he has entered a one-sided bargain. But when a party of little bargaining power, and hence little real choice, signs a commercially unreasonable contract with little or no knowledge of its terms, it is hardly likely that his consent, or even an objective manifestation of his consent, was ever given to all the terms. In such a case the usual rule that the terms of the agreement are not to be questioned should be abandoned and the court should consider whether the terms of the contract are so unfair that enforcement should be withheld."
Many people assume that if they have signed a contract they must comply with its terms.  They assume that if it was written by the other party's lawyers it must be legal and enforceable.  There are many defenses to contracts that can be used to change, limit, or cancel some or all of its terms.  It is always better to insist on time to have an attorney review a significant contact BEFORE it is signed.  If this was not done, even signed contracts can sometimes be cancelled if extremely unfair. ¡NO SE DEJE! ®
JESS J. ARAUJO, ESQ.  
Read More