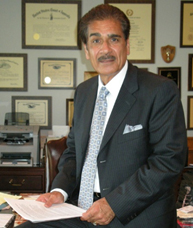 Article 17-24
¡No Se Deje!
The Obama administration made available a service that allows attorneys and family members of people in immigration custody to locate them quickly.  Immigration and Customs Enforcement (I.C.E.) officials have established an internet site that is available to the public to find out if someone is in immigration custody and, if so, where he is being held.  The website is www.ice.gov.
Immigration attorneys and Immigrant Rights organizations have complained for years that the immigration system makes it extremely difficult to find detainees.  They describe a system that is unnecessarily and unfairly complicated and time consuming.  Even immigration attorneys report that it can take weeks to find out where a detainee is being held.  Immigration officials confirm that they use more than 250 jails, prisons and detention facilities throughout the nation to hold more than 30,000 suspected immigrants.  Critics of the system say that it is illogical, costly and disruptive to transfer detainees abruptly from one state to another.  One former detainee reports that he was transferred to facilities in 7 states over a 14 month period.  They complain that these decisions are often made in order to use the "cheapest beds" and that detainees and their families are not informed prior to the transfers.
The Obama administration has made several other policy changes in responding to the many complaints about the immigration procedures of the Bush administration.  These policies include changing the nature of detention facilities from a penal-criminal or punishment environment to a civil law facility designed to hold people prior to deportation.  They have stopped detaining certain asylum applicants, reviewed the medical services program, and have trained employees to more carefully decide who should be detained and where.
The Obama administration also stopped using the controversial T. DON HUTTO detention facility to hold entire families.  Protesters conducted several demonstrations and detainee families went on hunger strikes to protest the harsh and inappropriate methods used there.  Detainees are now allowed to wear street clothes instead of prison uniforms, they are allowed more time for recreation, and have improved medical and dental services.
To use the online detainee locator, users must go to the website www.ice.gov and type the detainee's country of origin and either his name and date of birth or his Alien Registration number.  The name must be typed exactly as it is listed in the detention facility records.  No information is available during the booking process but officials indicate that they try to have the information available within 30 minutes thereafter.  Note that location information can be as much as 8 hours old so users should call the facility to confirm the detainee's presence prior to visiting.  Instructions on how to use the online locator are provided in several languages including Spanish.
Finding detainees promptly reduces unnecessary anxiety and allows detainees to obtain more effective legal representation.  The better solution would be to not transfer detainees to remote places at all.  ¡NO SE DEJE! ®
JESS J. ARAUJO, ESQ.